AceChemPack Ceramic Structured Packing

(Ceramic corrugated structured packing)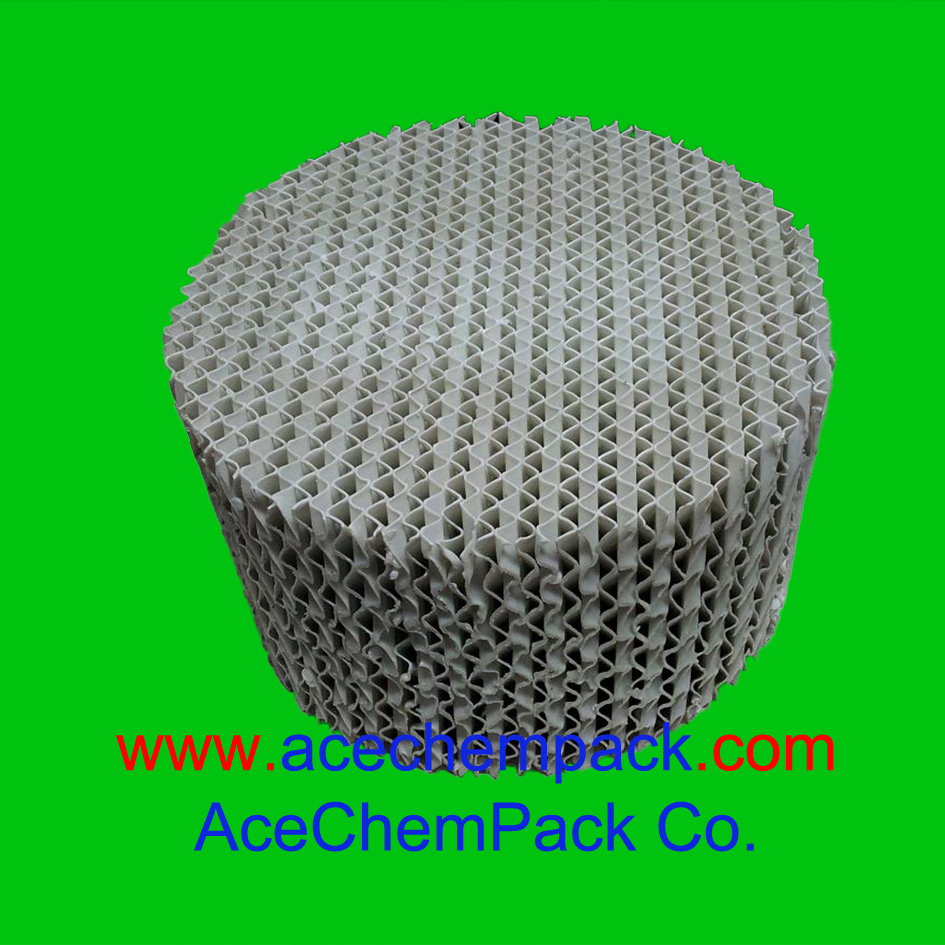 Introduction of AceChemPack Ceramic Structured Packing Products:
AceChemPack Ceramic Structured packing is also called Ceramic corrugated structured column packing. It's formed from corrugated sheets of ceramic. Ceramic surface can generate extremely thin film liquid flow and tortuous vapor flow passages promote mixing of liquid and vapor and, at the same time, general little pressure drop. These are reasons for AceChemPack Ceramic Structured Packing has the same mass transfer efficiency as metal packing. Meanwhile, AceChemPack Ceramic Structured Packing is much more resistant to corrosion and high temperature than metal packing. The surface structure of ceramic packing could promote wetting and keep liquid hold-up to a minimum.
Advantage of AceChemPack Ceramic Structured Packing:
· The most economical range is F-factor1.5-2
· Improve capacity by up to 50% over standard ceramic saddle Column packing
· Excellent Resistance to Plugging
· Improve efficiency up to 25% over standard ceramic saddle Column packing
· Greater Heat Recovery in RTO Applications than any Random Packing
· The corrugated sheets of ceramic are vertically oriented in the packed Column, eliminating any horizontal surfaces which create resistance to fluid flow
· Pressure drop of each theoretical sheet is 0.3-1mbar Lower pressure drop by 60% or more over standard ceramic saddle Column packing
· Column Packing geometric construction greatly reduces the channeling of both the liquid and vapor and provides for more effective contact of sulfuric acid and SO3 gas.
Application of AceChemPack Ceramic Structured Packing:
· Fining process of corrosive mixtures, which have strict requirements for pressure drop and number of theoretical sheets
· Vacuum treatment under absolute pressure higher than1m bar
· Fining and distillation of halogen organic compounds. Rectifying organic halide
· Rectifying and absorbing some corrosive mixtures, which are definitely regulated in pressure drop and theoretic plate number
· Applied in some towers that contain a large quantity of natural media used to absorb nitric acid and concentrated sulfuric acid, as well as for purifying the air in chemical plants
· Operating in vacuum conditions at a bottom absolute pressure of 100pa
· Used in heat exchanger and demisting, or as a catalyst carrier
Properties:
技术参数
parameter

填料类型 type of the packing

700x

470x

450x

450y

400x

400y

350y

250x

250y

160x

160y

125x

125y

100x

比表面积(m2/m3)
specific surface area

700

470

450

450

400

400

350

250

250

160

160

125

125

100

空隙率 E%
void fraction

76

75

72

72

75

75

78

80

80

85

85

86

88

90

倾斜角(o)
chamfer

30

30

30

45

30

45

45

30

45

30

45

30

45

30

水力直径(mm)
hydraulic diameter

5

7

7

7

8

8

10

12

12

15

15

28

28

30

液体负荷(m3/m3)
liquid load

0.2-100

0.2-100

0.2-100

0.2-100

0.2-100

0.2-100

0.2-100

0.2-100

0.2-100

0.2-100

0.2-100

0.2-100

0.2-100

0.2-100

最大F因子
(m/x[kg/m]3)0.5
maximum F factor

2.0

1.8

2.0

1.8

2.2

2.0

2.6

2.8

2.6

3.0

2.8

3.2

3.0

3.5

压力降 mba y/m
pressure drop

4.8

4.5

4.4

4.5

3

3.5

2.5

2

2.2

1.8

2

1.5

1.5

1.2

理论板数(l/m)
theoretical plate

7

5

3-4

4

2.8

2.8-3.2

2.5-3

2.3-2.7

2.5-2.8

1.8-2

1.9-2.2

1.5

1.7

1

堆放密度(kg/m3)
heaping density

550

520

500

500

480

480

450

400

420

350

370

300

320

280

Metal Structured Packing | Plastic Structured Packing | Metal Pall Ring | Plastic pall ring | Plastic Teller Ring | Ceramic intalox saddle ring | Molecular sieve