AceChemPack Metal Structured Packing

(Metal corrugated structured packing)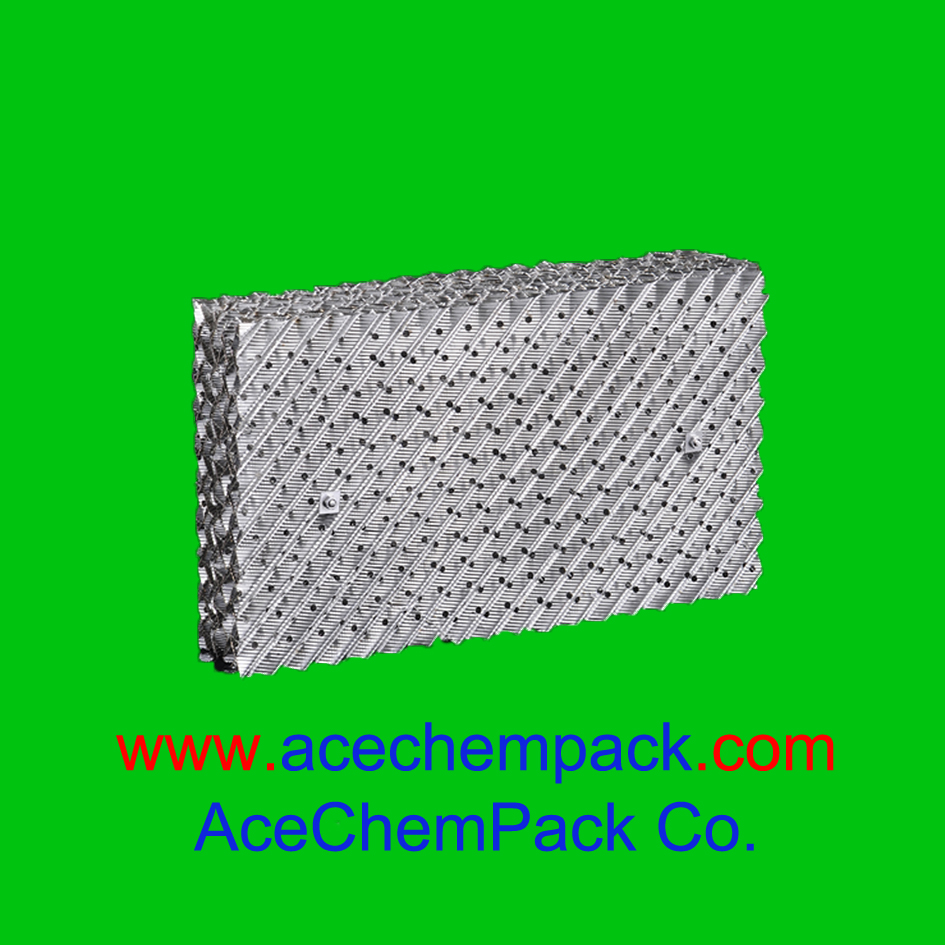 Introduction of AceChemPack Metal Structured Packing Products:
AceChemPack Metal Structured packing is also called Metal corrugated structured packing. It's formed from corrugated metal sheets. AceChemPack Metal Structured Packing operates over a wide range of liquid and gas rates. With more than 20 types of AceChemPack Corrugated Structured Packing available, AceChemPack can provide the right products to meet your specific tower requirements.
AceChemPack Metal Corrugated Structured Packing offers higher capacity and/or higher efficiency than random packing or conventional trays. AceChemPack Metal Corrugated Structured Packing revamp can increase separation efficiency, increase capacity, lower pressure drop, and often significantly lower the energy costs of distillation and absorption operations. That means retrofitting existing packed or trayed towers with AceChemPack Metal Corrugated Structured Packing will improve profitability.
Metal Structured Packing Application:
AceChemPack Metal Corrugated Structured Packing widely used in temperature sensitive application where large numbers of theoretical stages are needed. Low liquid loading systems for vacuum distillations or organic intermediates, amines, glycols, fatty acids, essential oils and fragrances, suitable for solvent recovery, batch & continuous distillation system and system of ethyl benzene / benzene second, hexamethylene kelone/ hexamethylene mellow, oneself lactam. Absorb or regeneration tower.
Materials: Stainless steel, Carbon steel, aluminum, bronze and other alloys etc.
Properties:
Model

surface area
α
m 2 /m 3

void space
%

ε

m 3 /m 3

Waterpower Diameter
de
mm

Declined angle degree

F-factor
m/s kg/m 3

Theoretical tower plate No/m

125 x/y

125

98.5

18

30/45

3

1-1.2

250 x/y

250

97

15.8

30/45

2.6

2-3

350 x/y

350

96

11.5

30/45

/

/

450 x/y

450

93

9

30/45

1.5

3-4

500 x/y

500

93

8

30/45

/

/
Other type of Metal Structured Packing such as 252Y Plus, 250Y HC, 2x/y, 3x/y, 2T, 3T, are available for enquiry.

Ceramic Structured Packing | Plastic Structured Packing | Metal Pall Ring | Plastic pall ring | Plastic Teller Ring | Ceramic intalox saddle ring | Molecular sieve